Bathroom Renovations
Remodels & Makeovers
Custom Designs
30+ Years Experience
Transform your bathroom with a perfect blend of relaxation, functionality and affordability.
Get Free Quote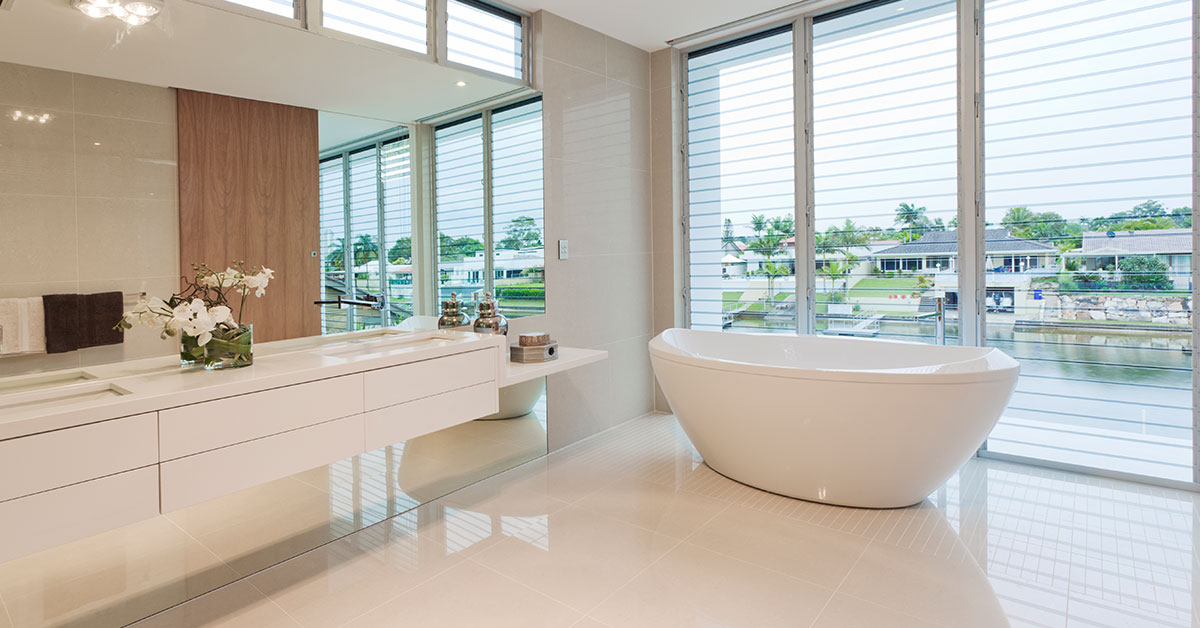 Sydney's Best Bathroom Renovations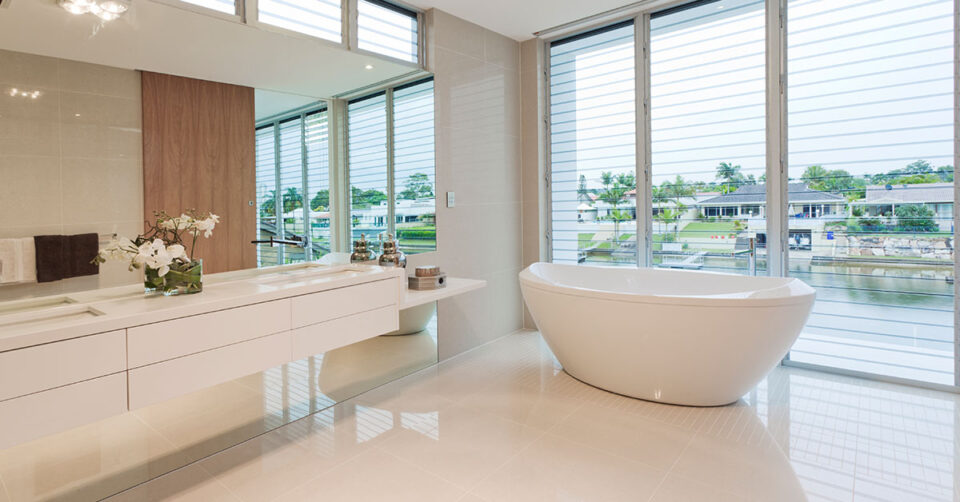 Welcome to NuDesign Bathroom Renovations, your trusted partner for comprehensive bathroom transformations in Sydney, NSW.
Specialising in delivering start-to-finish bathroom renovations, we combine our expert design skills, high-quality materials, and meticulous attention to detail to create spaces that are both functional and aesthetically pleasing.
Whether you're looking to modernise your bathroom or create a spa-like sanctuary, our team is equipped to bring your vision to life.
We excel in all specialsed services:
You Are in Safe Hands With NuDesign
We understand that bathroom renovations are about more than just improving a space. They're about enhancing your quality of life and adding value to your home.
Let's dive into why you should consider a bathroom renovation and what sets us apart.
Why Our Bathroom Renovations Are a Smart Investment
Renovating your bathroom not only gives your home a modern, fresh look but it's also a smart financial decision.
A well-executed bathroom renovation can yield up to a 70% return on investment, increasing the overall value of your home.
Besides the financial aspects, a newly renovated bathroom can enhance your day-to-day life, offering a sanctuary for relaxation and self-care.
The NuDesign Bathroom Renovations Difference
At NuDesign Bathroom Renovations, we specialize in transforming ordinary bathrooms into luxurious oases.
Our focus is on both design and functionality, ensuring that each project we undertake enhances your home's aesthetic while meeting your personal needs.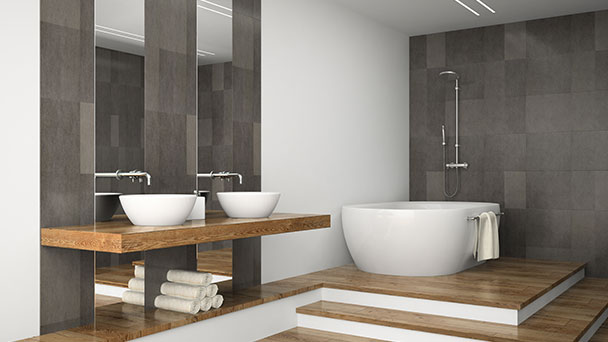 The Importance of Good Bathroom Design
Good design is the cornerstone of any successful renovation project. But what makes a bathroom design 'good'? Let's discuss the elements that combine functionality with aesthetics.
Functional Design Elements
Functionality is key when it comes to bathroom design. This involves the optimal layout of fixtures, sufficient storage solutions, and effective lighting.
A well-designed bathroom will accommodate all your needs, ensuring that everything from morning routines to relaxing baths is a seamless experience.
Designing for Aesthetics
A beautiful bathroom can serve as a personal retreat, providing relaxation and comfort.
By focusing on elements such as tile choices, colour schemes, and fixtures, we create spaces that are visually appealing and complementary to your home's overall design.
Maximising Space
No matter the size of your bathroom, clever design can make it feel spacious and airy.
We use techniques such as wall-mounted fixtures and smart storage solutions to ensure that even the smallest bathroom feels open and inviting.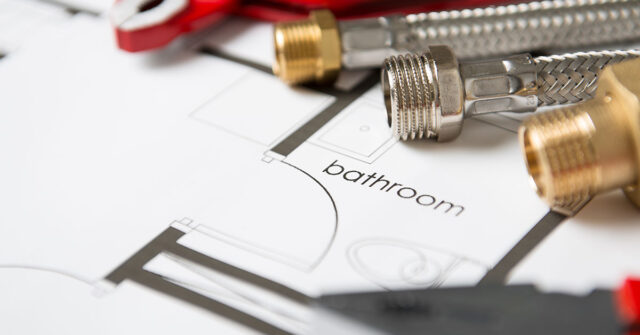 Understanding the Renovation Process
A renovation project involves several crucial steps. Knowing what to expect at each stage can help you better prepare for the journey ahead. Here's a rundown of the renovation process from start to finish.
Initial Consultation
Our process begins with an initial consultation where we discuss your needs, preferences, and budget. We then carry out an onsite assessment to better understand the scope and requirements of the project.
Design and Planning
Based on the initial consultation, our design team drafts a comprehensive plan that outlines how your renovated bathroom will look and function.
This stage includes selecting materials, fixtures, and other design elements.
Construction and Installation
Once the design is finalized, our team of skilled tradespeople gets to work.
We manage every aspect of the construction phase, ensuring that the project stays on schedule and adheres to the highest quality standards.
Final Inspection and Handover
At this stage, we conduct a thorough final inspection to ensure that everything is up to our stringent quality standards. Once we're satisfied, we hand over your newly renovated bathroom for you to enjoy.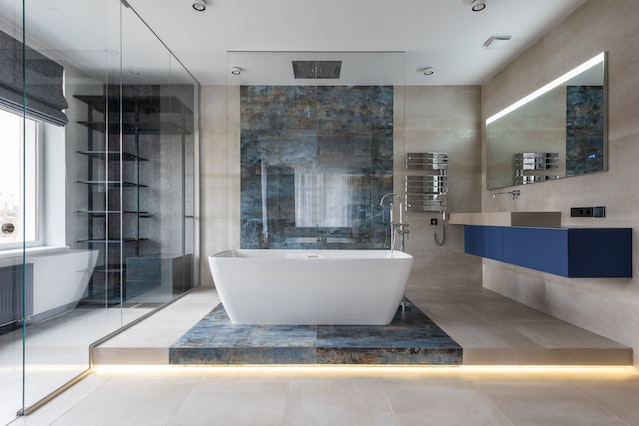 Customisation Options
Your bathroom should be as unique as you are. Whether you want a traditional bathroom design or something more modern, we offer a range of customisation options to make your space truly your own.
Material Choices
From ceramic tiles to natural stone, we offer a wide array of material choices that can be tailored to suit your aesthetic and functional needs.
Colour Schemes
Whether you prefer a classic monochrome look or vibrant hues, we'll help you choose a colour scheme that elevates your space.
Fixtures and Fittings
Select from a variety of high-quality fixtures and fittings to add the perfect finishing touches to your bathroom. From taps to towel racks, we source only the best products for our clients.
Special Features
Looking for something extra such as age-friendly features? We cater to your needs.
We also offer special features such as heated floors, rain showers, and built-in sound systems to add a touch of luxury to your bathroom.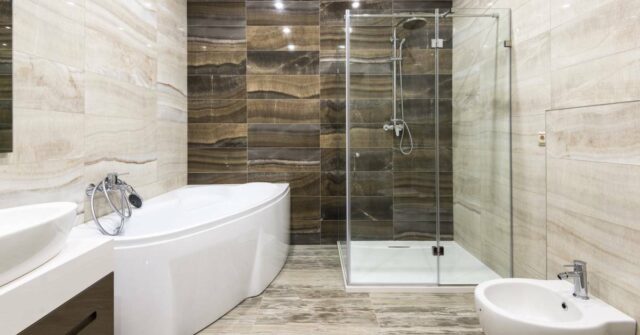 Cost and Budgeting
Understanding the cost involved is crucial for a successful renovation project. Let's explore the factors that can affect your budget and how to plan for them.
What Influences the Cost of a Bathroom Renovation?
The cost of your renovation will depend on various factors, including the size of your bathroom, the quality of materials used, and the complexity of the design.
We offer transparent pricing to ensure there are no surprises.
How to Budget for Your Project
We recommend setting aside a contingency fund of at least 10% of your budget for unexpected costs.
Planning ahead with a well-thought-out budget can help you achieve the bathroom of your dreams without breaking the bank.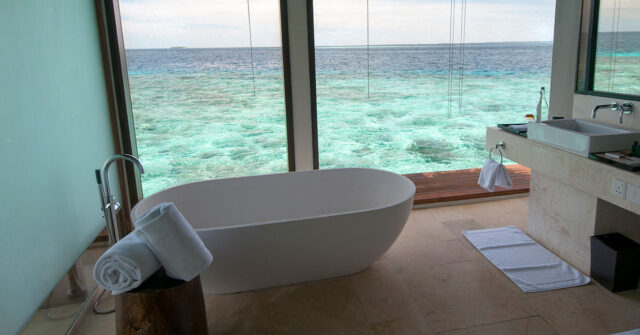 Frequently Asked Questions
We understand that you may have questions about your upcoming renovation project. Below are answers to some of the most common queries we receive.
How Long Will the Renovation Take?
The duration of the project will depend on the scope and complexity of the renovation. Typically, a complete bathroom renovation takes between two to four weeks.
We provide a detailed timeline during the planning phase to help you prepare.
Do I Need to Vacate My Home During the Renovation?
Most of our clients do not find it necessary to vacate their homes.
We strive to minimize disruption to your daily life, ensuring that the construction area is sealed off from the rest of the house and that work is done during convenient hours.
Is My Project Too Small/Large for NuDesign Bathroom Renovations?
No project is too small or too large for us. Whether you are looking to update a small powder room or renovate multiple bathrooms in a large residence, we have the skills and resources to handle it.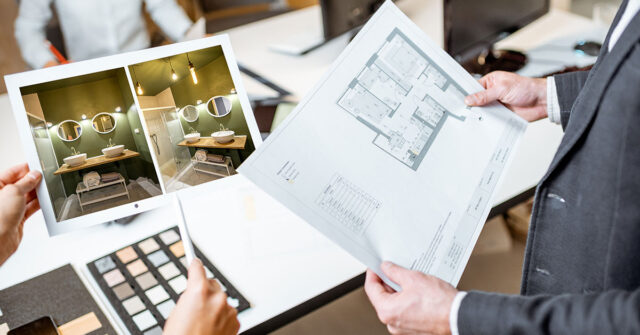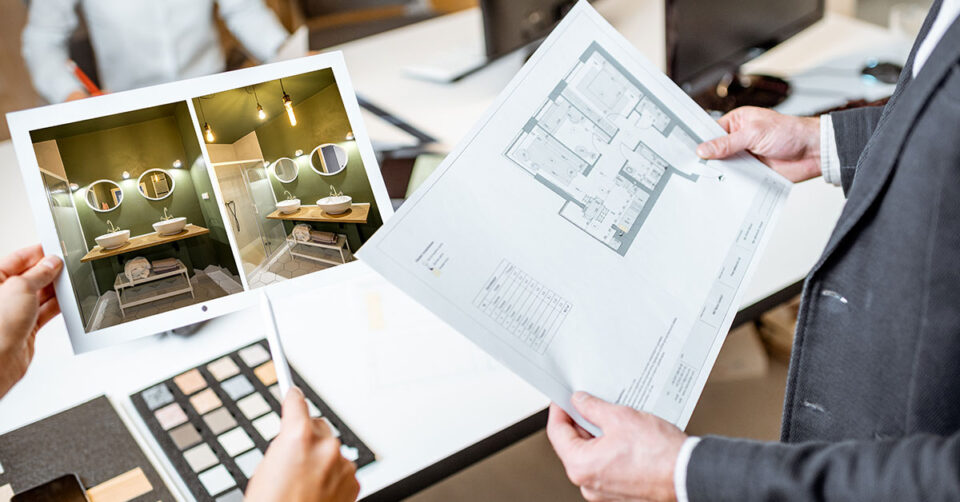 Why Choose NuDesign Bathroom Renovations
There are many renovation companies out there, but NuDesign stands out for a few key reasons.
Our Expertise
With years of experience in the industry, we bring unparalleled expertise to each project.
Our team consists of skilled designers, tradespeople, and project managers who are committed to delivering excellence.
Quality Assurance
We stand by the quality of our work, offering warranties and ongoing support to ensure your complete satisfaction.
Our commitment to quality is reflected in every aspect of our service, from initial consultation to final handover.
Our Commitment to Sydney Homeowners
We are proud to serve the Sydney community, delivering top-notch bathroom renovations to homeowners across the city. Your satisfaction is our ultimate goal, and we go the extra mile to achieve it.
Ready to Transform Your Bathroom?
Your dream bathroom is just a phone call away. Take the next step in your renovation journey today.
Request a Free Consultation
If you're ready to take the first step toward your dream bathroom, reach out to us for a free consultation. We'll discuss your needs, budget, and vision to develop a preliminary plan for your project.
Contact Us Today
Don't wait to start enjoying the bathroom of your dreams. Contact us today to schedule your initial consultation and take the first step toward a stunning bathroom transformation.