If you're thinking of renovating your bathroom, it's important to plan carefully to ensure the finished result is what you want. Here is a general overview of how to go about it.
First, decide on the look and feel you want for your bathroom. Do you want a traditional or contemporary design?
Once you've decided that, start collecting ideas and images from magazines, websites and other sources to give yourself a better idea of what you want.
Next, take measurements of the space so you can work out what will fit and what needs to be changed. If there are any problems with drainage or ventilation, now is the time to address them.
Once you have a clear idea of what you want, draw up a plan and get quotes from professional bathroom renovators or contractors.
Be sure to discuss everything in detail with them so there are no surprises later on.
For a more detailed guide on planning your bathroom renovation, check out the full post below.
Create A Budget Based On Your Renovation Requirements
When planning a bathroom renovation, it's important to decide on your budget with careful consideration of what you want to renovate.
By setting a budget, you will be able to prioritize what needs to be done and how much you can afford to spend.
Consider the size of the bathroom, potential fixtures or features you may want to add, as well as what type of materials you want the space to feature.
Also, think about whether any components of the bathroom need replacing like toilets, showers, tubs, vanities or cabinets.
There are limitless possibilities when completing a bathroom renovation project based on your preferences and ideas.
So, it is best to decide on these details ahead of time so that an experienced contractor can draw up an accurate quote for your project based on labour, materials and additional costs.
Lastly, don't forget about hidden costs such as trim work or removal/replacement of drywall which could add unexpected fees to your overall bathroom renovation bill.
Keeping all this in mind from the start should help you decide on a plan and budget for your bathroom renovation that is sure to meet your expectations while staying within budget.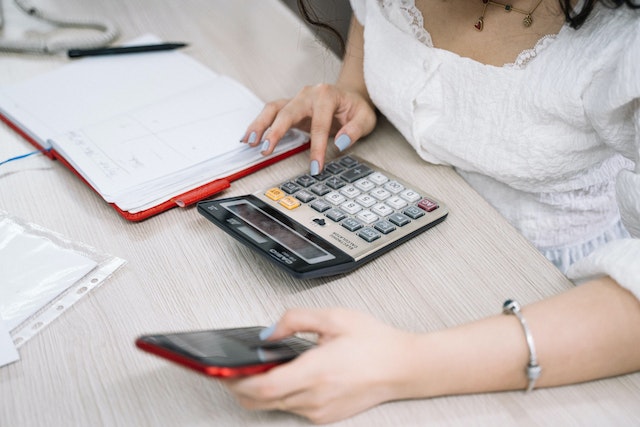 Choose The Style of Your Bathroom – Modern, Traditional, etc.
When embarking on a bathroom renovation, one of the most important decisions you will have to make is what style of bathroom to choose.
Whether you opt for modern and sleek or something more traditional can set the tone for the rest of your bathroom design.
It's worth doing some research to discover which style of bathroom would work best in your space.
From lighting and fixtures to tiles and whole bathroom suites, there are many styles that can help transform any bathroom into an inviting and stylish sanctuary.
Consider whether you want bold designs using geometric shapes and bright colours or if you are looking for something more peaceful and subtle.
Once you have narrowed down your options, visit some dedicated bathroom showrooms to get valuable advice on how best to realize your vision.
With a little planning and a bit of inspiration, it's easy to find the perfect bathroom renovation style for your space.
Search For Contractors & Get Quotes
When it comes to bathroom renovations, the most important step is finding qualified contractors who can get the job done right.
To ensure the whole project runs smoothly consider a bathroom renovation company, such as NuDesign Bathroom Renovations.
We provide bathroom designers and renovators to complete all work from start to finish.
Alternatively, if you want to manage the project yourself you will need to find specific trades for each aspect of the renovation.
This includes demolition, rubbish removal, plumbers, electricians, tilers, painters, carpenters and more.
Start your search by asking friends and family for referrals. Word of mouth is always a reliable way to find a reputable provider.
Once you have a few contractors in mind, do your research on their experience, as well as any reviews from past clients.
Next, try to visit showrooms or exhibits where you can get ideas for bathroom designs and products. This can be helpful in articulating the look that you want your bathroom to achieve.
Once you've hashed out all the details, communicate them to your prospective contractors and request competitive quotes for materials and labour costs.
With sound planning and careful consideration of multiple bids, you should feel confident that you are making the right investment when selecting a bathroom renovation contractor.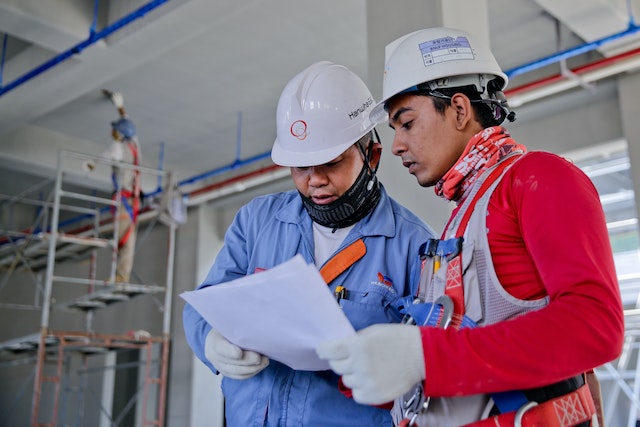 Design The Layout of Your New Bathroom
With complete bathroom renovations, you have the option of completely changing the layout of your bathroom.
This includes moving sewer and plumbing lines, changing electrical outlets, lighting and switch locations, and more.
When planning the layout of your bathroom renovation, there are a few key factors to keep in mind. First and foremost, bathroom safety should be at the top of your list.
Also, plan for bathroom flow and ease of use.
Whether you're opting for a traditional setup or something more modern, consider including features like non-slip flooring, handrails, and well-lit pathways throughout the bathroom.
Additionally, consider incorporating water-saving fixtures that don't sacrifice performance in quality such as low-flow shower heads, dual-flush toilets, and adjustable sink sprayers.
These are all great options for keeping water consumption down without compromising your bathroom's function.
Lastly, make sure to plan your bathroom storage solutions around their potential traffic level to make sure that it stands up over time.
With mindful planning early on, you'll reap the rewards of a beautiful bathroom renovation for years to come.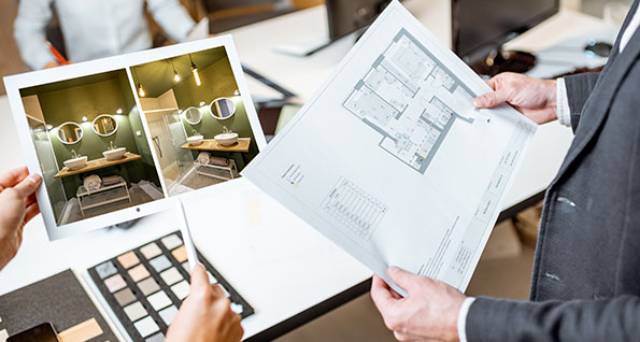 Shop for Materials & Fixtures
When it comes to replacing or adding new fittings and fixtures, planning is key.
It is important to begin by measuring the bathroom space and other elements such as windows and doors.
This will help you determine what materials and fixtures can fit comfortably in the bathroom and create your desired look.
Additionally, it can help with budgeting by allowing you to see exactly which fixtures are within your price range.
Then, you can start shopping for those items without worrying about them fitting the room or being too costly.
Once the design goals are documented and the budget is established, you can start shopping for bathroom products such as tubs, showers, toilets and vanities.
Start at local home improvement stores or leverage online resources to compare products, prices and reviews to find exactly what you're looking for.
Once all of your materials are collected and your design plan is finished, you'll be one step closer to bringing your bathroom renovation vision to life.
Create a Plan For The Renovation
At this point, you are almost ready to start working on your bathroom renovation. But first, you should create a plan of action.
Based on the work you have decided to do, including any layout changes and new items to add, you can start to put together a plan of action.
This can help break the project down into individual tasks and will ensure it stays on track.
You should also check local building regulations for bathroom renovations before beginning any construction work.
With a thorough plan in place, a bathroom renovation can be an exciting transformation of one of the most used rooms in any home.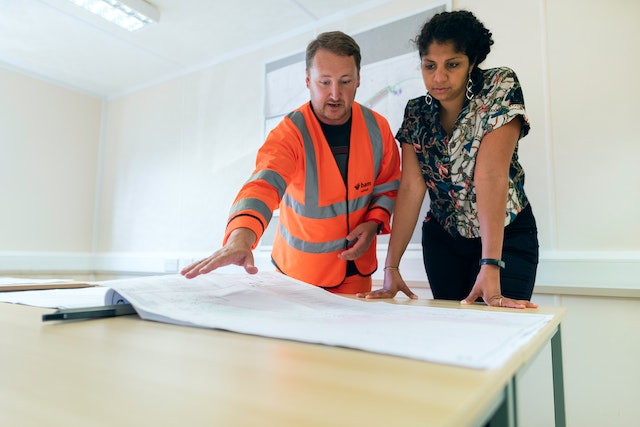 Conclusion
So, you've decided it's time for a bathroom renovation. Whether your old one is outdated or just in need of some sprucing up, these tips will help make the process go as smoothly as possible.
First, decide on your budget and what you want to renovate. Once you know that, choose the style of your new bathroom whether modern, traditional, etc.
From there, find a contractor and get quotes for the work. Plan the layout of your new bathroom and start shopping for materials and fixtures.
Finally, get started on the renovation. If you run into any problems or have questions along the way, don't hesitate to reach out to our team for help. We wish you all the best with your upcoming project.