Having a bathroom that matches your taste and style is key to ensuring your bathing experience is relaxing and comfortable.
However, it's not always easy to find the perfect bathroom design that achieves this.
So, we've put together a shortlist of our favourite bathroom designs to help you get started as you plan your next bathroom renovation.
Let's get started.
Contemporary Design
Contemporary bathroom designs tend to have sleek lines, a focus on functionality mixed with seemingly simplistic aesthetic design, and a balanced blend of various materials.
The modern contemporary bathroom theme usually relies on a mix of tile and stone with wooden accents on features such as cabinetry and vanities.
This allows it to make a visually compelling aesthetic without any flashy, complicated, artwork found in more upscale versions of a modern bathroom. This design style also works with most types of modern homes.
Sure, it will feel out of place in a rustic log cabin or a dated home from decades long gone, but it will fit perfectly into a large, modern home, or even a quaint condo with modern décor.
When coupled with the latest green technologies, a modern contemporary bathroom design can save you money, work well in nearly any space, and create a sleek look that isn't overly lavish.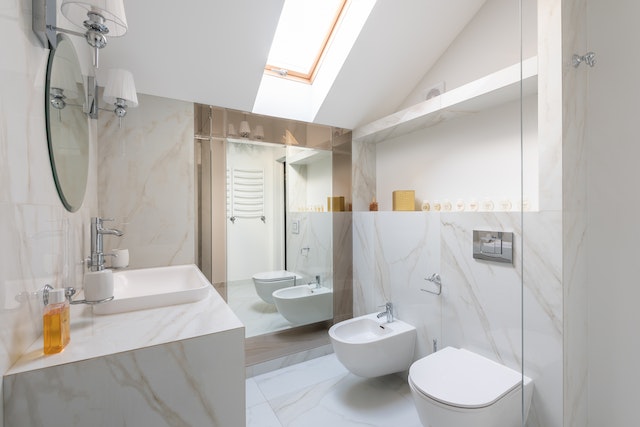 Lavish Luxury
A luxurious bathroom design typically suits larger, more high-end homes. As such, it may be out of place in the average home, but there is some flexibility if you are creative.
As you can imagine, it is easy to add a luxury bathroom to a modern home, and if you pay attention to the details, even more, dated, classically styled homes can benefit from a luxury bathroom renovation too.
A lux bathroom is defined by an unmatched level of quality, a focus on comfort, and the use of more lavish materials and features.
This can include heated floors, fixtures crafted from precious metals, baths that include massage jets with multi-person seating, and aesthetic themes that are reminiscent of a lavish 5-star hotel.
Not your typical guest washroom.
This won't work for everyone. Besides it being out of place in the majority of homes, you also must have the funds to invest in such an extravagant project.
However, if you meet those requirements, you're sure to have a bathroom experience that exceeds your expectations.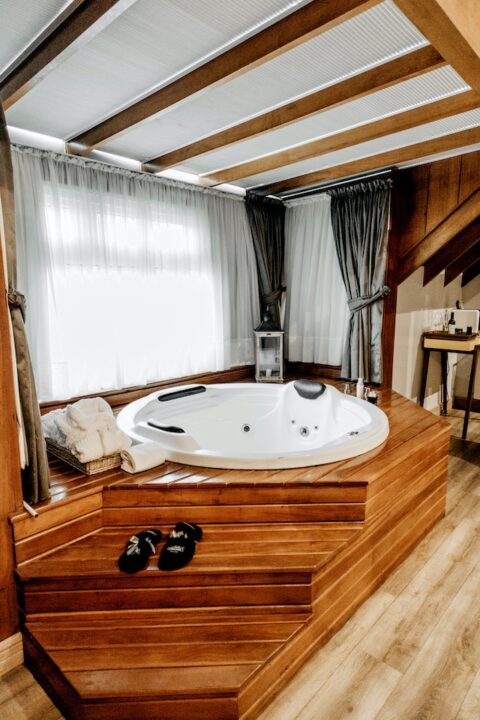 Traditional/Classic Bathroom Design
Traditional or classic bathroom design emphasizes comfort, timeless aesthetics, and historical elements.
This design features neutral colour palettes, such as whites, creams, and soft blues. Key fixtures include freestanding bathtubs, pedestal sinks, and antique-style faucets.
Lighting is critical, often using vintage-style wall sconces, chandeliers, or pendant lights. Tile work, such as checkerboard or subway tiles, adds visual interest and authenticity.
Textiles and accessories, including plush towels, ornate mirrors, and framed artwork, tie the design together, providing a sense of retreat and luxury.
Decorative elements such as ornate mirrors, framed artwork, and flower arrangements can be used to add a personal touch and a sense of luxury.
In essence, traditional or classic bathroom design marries timeless elegance with everyday comfort.
It provides a sense of retreat, drawing on the past's charm while meeting the functional needs of the present.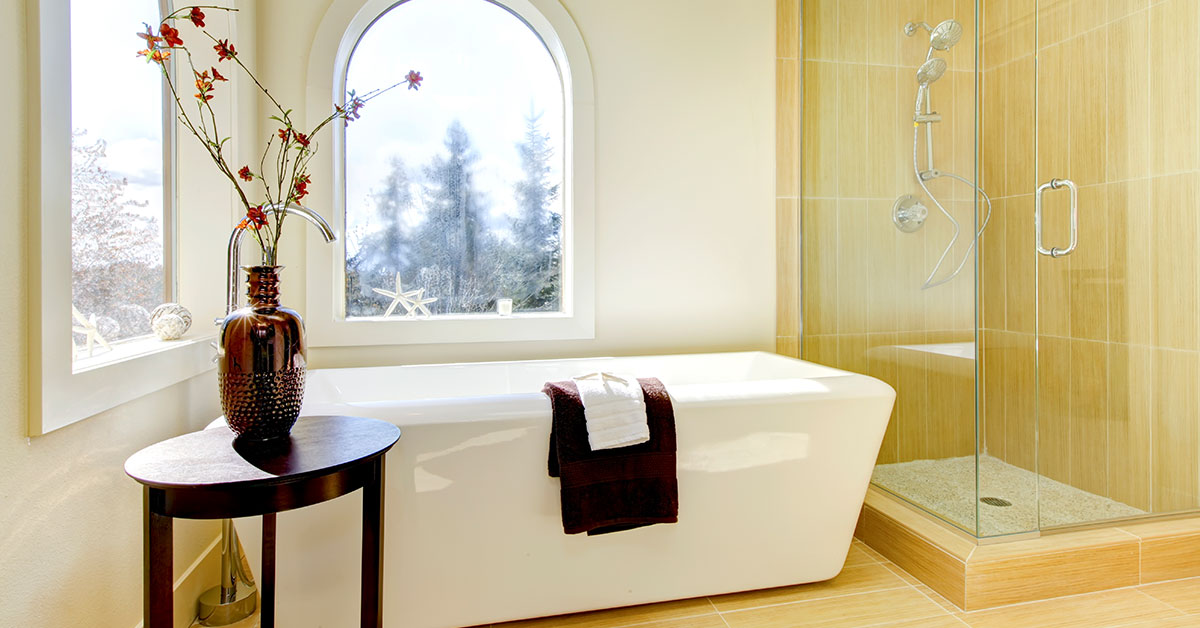 Artistic Design
If you want to wake up in the morning and be met with something that inspires a positive start to your day, or just want something more unique than a run-of-the-mill bathroom, taking the artistic route may be for you.
Utilising smart design concepts that are achievable with artistic wallpaper, advanced lighting, textured tiles and the list goes on. The options are limitless.
The modern market includes a vast variety of wallpapers with elaborately artistic prints on them, minor features that break out of the traditional norm, and advanced features to make your bathroom experience more enjoyable.
When it comes to wallpaper in bathrooms, you just need to make sure the wall will not have contact with water and that there is adequate ventilation to prevent condensation.
This gives you access to a vanity with asymmetrical shapes and designs. By also switching out traditional tile options for mosaic, stonework, or synthetic options, you can achieve very unique effects.
With this design style, your creativity is the only limit.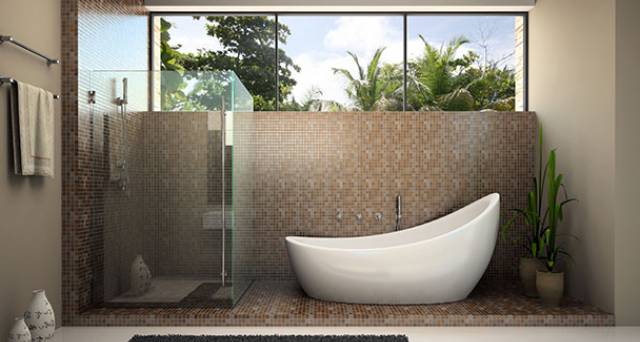 What Design Is Best For You?
Researching ideas for your bathroom makeover can be overwhelming. So when you need a bit of help making your dream bathroom a reality, contact us to access our professional design team.
We'll bring your vision to life with our all-inclusive package options.